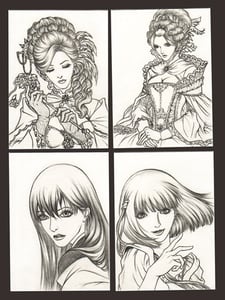 $

15.00 - On Sale
Penciled illustration by DK on a 2.5" x 3.5" smooth surface bristol trading card.
All cards include hard plastic card protector and are mailed in a bubble envelope mailer.
Images shown are actual examples of previously sold cards.
For October Only:
* Free shipping!
* Bonus Sketch Card by the comic's writer and sometime artist, J.
* And you will be automatically entered into a raffle for a chance to win an 11x17 piece of original art by DK!